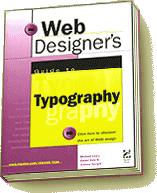 Web Designer's Guide to Typography


By Michael Leary, Daniel Hale and Andrew Devigal



Published by Hayden Books, 1997
ISBN: 1-56830-337-8

The Web Designer's Guide to Typography was written with a view to improving the overall aesthetic quality of sites on the World Wide Web. Galápagos Design Group designer and co-founder Mike Leary is the primary author and brings his design and typographic wisdom to this excellent resource.

The rapid proliferation of browsable sites and, more to the point, of individuals creating the pages comprising those sites has resulted in a cornucopia of design strategies. Unfortunately, many of those strategies result in pages that are hard to read, visually uncomfortable and generally uninviting. These less than ideal Web pages result from their designers' lack of experience with basic design principals. Equally significant is the lack of general knowledge about typography, its relationship to design principals, and the effect that informed use of typography can have on all aspects of a page's presentation.

Web Designer's Guide to Typography is written for the large number of new designers created by the medium's proliferation, and also for the experienced designer moving into this new arena. The exigencies of low-resolution computer displays, as well as their confinement of physical space, introduce new challenges even to the experienced designer. Everyone with an open mind, interested in learning or honing typographic design skills, will benefit from reading this book.

From the basics of defining typographic terms and explaining contemporary font technologies, to the application of long-standing principals of composition and page layout, to advanced topics such as cascading style sheets and the use of typographic design tools, Web Designer's Guide to Typography puts down on paper information and concepts that will be of use for many years to come.

As our mission statement suggests, Galápagos Design Group is proud to contribute to the worldwide aesthetic and technical advancement of type. Our support of Mike Leary in his literary efforts is one way of accomplishing this goal.

Links are available for information on purchasing this book and for reviews.